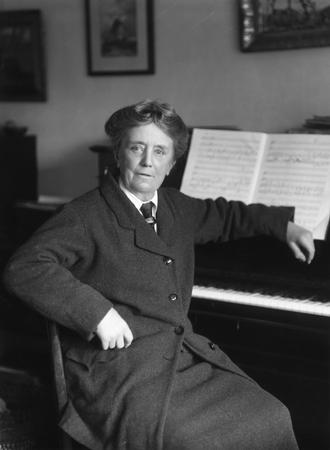 The American Symphony Orchestra presents works rarely if ever performed in public and its brilliant music director, Leon Botstein, insures that each season is one of genuine if sometimes uneven discovery.
Last Sunday Edith Ethel Smyth's opera, "The Wreckers," was performed as opera-in-concert at Avery Fisher hall.   Following a highly interesting, and amusing lecture by composer-in-residence Richard Wilson, a versatile group of singers and an excellent chorus told the story of an English village that made its living by extinguishing navigational beacons so as to lure vessels to shipwreck and open them to wholesale plunder.   There is also a love angle, not a simple one either (but this is opera).
Smyth is barely know today.   She was a personal friend of Brahms and Tschaikovsky, among others, and knew Mahler well too.   An advocate of women's rights, she marched with the suffragettes and enjoyed an amusingly varied sex life including affairs with the wife of the Archbishop of Canterbury and the wife of Queen Victoria's private secretary.   As described by Wilson she was a woman I would have much enjoyed knowing.
"The Wreckers" features strong melodic lines and is essentially neo-Romantic.   Smyth really knew how to orchestrate and only her gender prevented her from being widely recognized during her lifetime.   Actually, her music slipped below the radar screen after her death and only now is slowly being rediscovered.
A very satisfying launch to the season.
-Ralph Micahel Stein