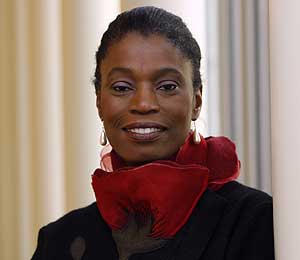 From The Philadelphia Inquirer:
Penn's Anita Allen is at the top of her field, but she has serious concerns about its lack of openness and diversity.
Anita Allen remembers an extraordinary remark made by one of her white, male University of Michigan philosophy professors in the 1970s when she was in graduate school seeking a Ph.D. in philosophy – a field that at the time lacked a single black female professor." 'Anita,' he told me," recalls Allen between the good-natured laughs that punctuate the seriousness of what she says, " 'you will have to pee on the floor of the American Philosophical Association convention to not get a job in philosophy.' "
Was she offended?
"I thought," she continues, "well, maybe they're right" – a notion that helped ease her growing concern that she might be heading up an impossible path.
Chatting on the eve of her keynote speech to the first Collegium of Black Women Philosophers in Nashville, reflecting upon her life in the exquisite University of Pennsylvania office that marks her status as Henry R. Silverman Professor of Law and Professor of Philosophy, Allen radiates the confidence you'd expect from someone many peers consider the most prominent black female philosophy professor in the country, as well as one of the nation's top law professors.
A nationally known thinker on privacy and ethics who earned her Harvard law degree five years after taking her Michigan Ph.D. in 1979, Allen, 54, is the author of several books, including Why Privacy Isn't Everything (2003), The New Ethics (2004), and now her first casebook on her own, Privacy Law and Society (2007). She's also published scores of articles on such pressing legal and philosophical issues as affirmative action and reproductive rights.
On any given week, Allen might be shooting off to some distant city for a lecture or panel. She has held visiting professorships at Harvard, Yale, Princeton and other elite institutions. She writes a monthly column, "The Moralist," for the Newark Star-Ledger, and has appeared frequently on TV as a commentator. Her 27-page C.V. teems with fellowships, awards, publications, presentations, and public-service activities.
If anyone in academe has arrived, it's Anita Allen.
Yet she recounts in stinging detail how tough it could be, as a black "Army brat" raised on bases from Georgia to Hawaii, to feel comfortable in philosophy, a discipline that still counts only about 30 black women among thousands of professors. That partly explains why she chose to move to legal academe and express her philosophical interests from there, while maintaining a secondary appointment in philosophy.
Read the rest here.