An Op-Ed by Gail Dines. Below is an excerpt:
… I dare say that few if any women at Yale are aspiring for a career in the porn industry, as they are going to have a range of options open to them, thanks to their Ivy League degree.

Those women who do go into porn are mostly women from underprivileged backgrounds who, facing a life of minimum wage labor, see porn as a way out of anonymous economic drudgery. And why not? The only image they ever get of porn is one that highlights the lucky few who actually make real money and get to mix with a few B-list celebrities. What they don't get to see are the thousands and thousands of women who start in porn and end up, within a short time, working the brothels of Nevada for a pittance, or having to deal with substance abuse and sexually transmitted diseases.

The real story of porn, one which looks nothing like the chic media image, will be well hidden next week at Yale. The student organizers have invited mainly representatives from the porn industry and their supporters, with the only voice of opposition being XXX Church pastor Craig Gross.

Missing are the voices of women who have left the industry after being brutalized and exploited, for whom a college education, let alone at an Ivy, is unaffordable and almost unimaginable.

Also missing is the anti-pornography feminist voice, which sees pornography as sexist, violent and harmful to women. After 30 years of researching the industry, the business practices of the pornographers, and the effects on women and men, we anti-porn feminists are "disappeared" from the debate. …
A response by Joseph Citarella, Director of Sex Week 2008 was published here. He noted that in fact there was a debate about pornography. The debaters were as follows: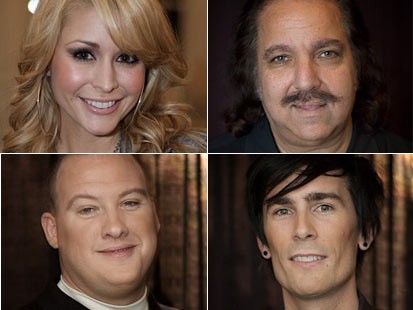 Vivid Girl Monique Alexander and "Porn King" Ron Jeremy (top) "face-off" against Porn Pastors Donny Pauling and Craig Gross (bottom).
Because of course who better to debate porn than three men, two of whom are Christian pastors. Guess which side they took? Talk about proving Dines' point about disappearing the voice of feminist criticism of pornography.
–Ann Bartow
Update: Via e-mail a reader posed an interesting query to porn fans. When is the last time you saw a woman as old as Ron Jeremy performing in mainstream pornography?