From The State, which also reports:
Goree, the former mayor of Carlisle, died on Tuesday evening at age 87 at the Agape Senior center in West Columbia. The family was at Leevy's Funeral Home in Columbia Thursday, finalizing funeral arrangements.

Current Carlisle Mayor Mary Ferguson-Glenn said Goree laid a foundation for progress that continues today.

"She was a great leader, a great teacher : a pioneer,"Ferguson-Glenn said."Everything that you see in Carlisle pretty much is the result of Mayor Goree's dedication and determination."

Carlisle is a town of 496 people in Union County, 65 miles northwest of the state capital.

Born on Jan. 24, 1921, in Newberry County, Goree was one of nine children. She worked and put herself through Benedict College, graduating with honors in 1948.

Goree taught math at Sims High School and Union High School from 1948 to 1981.

The Union Daily Times says Goree became the first black woman mayor of a S.C. municipality when she was elected mayor of Carlisle in 1978. The town hall is named in her honor.
I love that the town hall is named in her honor! Wish I'd had the chance to meet her. Below is the only photo I could find of her: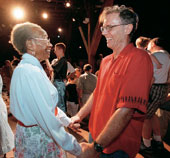 –Ann Bartow