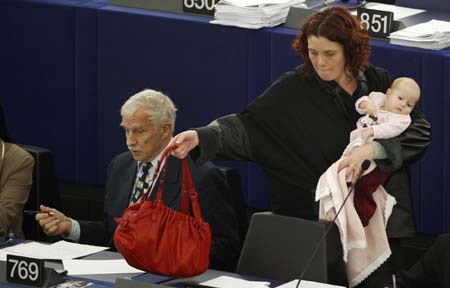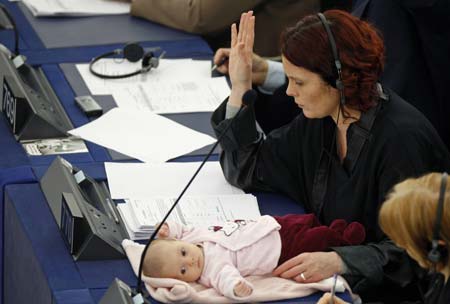 Hanne Dahl, Denmark's representative to the European Parliament, brought her child to work yesterday (photos by Vincent Kessler, Reuters). Dahl's EU Parliament page is here.  According to the website maintained by the Alliance for a Europe of Democracies (here):  
Hanne Dahl was born in 1970 in Aalborg, Denmark. She grew up partially in Malaysia, Indonesia and Singapore where she attended different international schools. She now lives in Aars in the north of Jutland with her husband and two children. She has worked as a priest for several years and also as a Political Consultant in the European Parliament before she took up her current position as an MEP for the Danish JuneMovement in May 2008 succeeding Jens-Peter Bonde. She is the top candidate for the JuneMovement in the June 2009 election and has been recently elected Co-Chairwoman for the IND/DEM Group in the European Parliament.
On seeing these photos, my first (U.S.-centric) thought was, "And it wasn't even 'Take Our Daughters and Sons to Work Day.'"
No word on what the men sitting on either side of Dahl thought of their newest seat companion.
-Bridget Crawford