I've never enjoyed magazine-style personality quizzes or horoscopes, but I do have fond grade-school memories of "fortune tellers" made of folded paper, such as the one shown at right (image source: retrodundee, here).  Nevertheless, I couldn't resist Firefox's Webify Me, its latest ploy to get my email address.  Here's the pitch:
Though we're all pulling from the same grab-bag of Internet stuff — travel blogs, political commentary, cat videos — it's unique choices that create your personal Web. Now you can see what your Web actually looks like. All you have to do is answer 20 simple questions and voila! We'll automatically make you a custom collage. Isn't the Web awesome?
I'm not sure whether to be pleased or horrified at the "custom collage" (shown at right) generated by my 20 responses.  What does it all mean?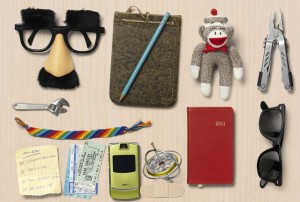 The Groucho glasses?  "Who are you? A mystery, an enigma, a chameleon that no one really knows. You know what you need to keep private, and what to show the outside world. Your identity is yours alone — wear them proudly, anonymous."
The macrame bracelet?  "Your buddies will be overjoyed to learn that you've drawn the Friendship Bracelet. It stands for sociability and your talent for making each friend, online and off, feel special. So very special."
Sock monkey?  "Everything's better with a monkey in it. Monkeys are fun, smart, and optimistic. You got this crafty monkey because it reflects your own delightful optimism and playfulness. Or maybe you like bananas?"
Shades?  "Your future is bright."
Leatherman pliers?  "You're the Multi-tasker, attacking multiple projects and sites simultaneously.  You come prepared and always have the right tool for the job."
Yeah, but add "between the sheets," as with fortune cookies, and that monkey doesn't sound so good.  Not sure how the Groucho glasses would work either.  Oh well.  Don't give 'em your email address.
-Bridget Crawford