I am excited to announce that Feminist Judgments: Rewritten Opinions of the United States Supreme Court has been published by Cambridge University Press.  This volume, edited by Kathy Stanchi (Temple), Linda Berger (UNLV) and me includes contributions from over 50 law professors.  After a very long wait, the book is now in hand. I couldn't be more pleased and honored to see in print the work of so many outstanding national colleagues who worked together on this project.
Here is the publisher's description of the book: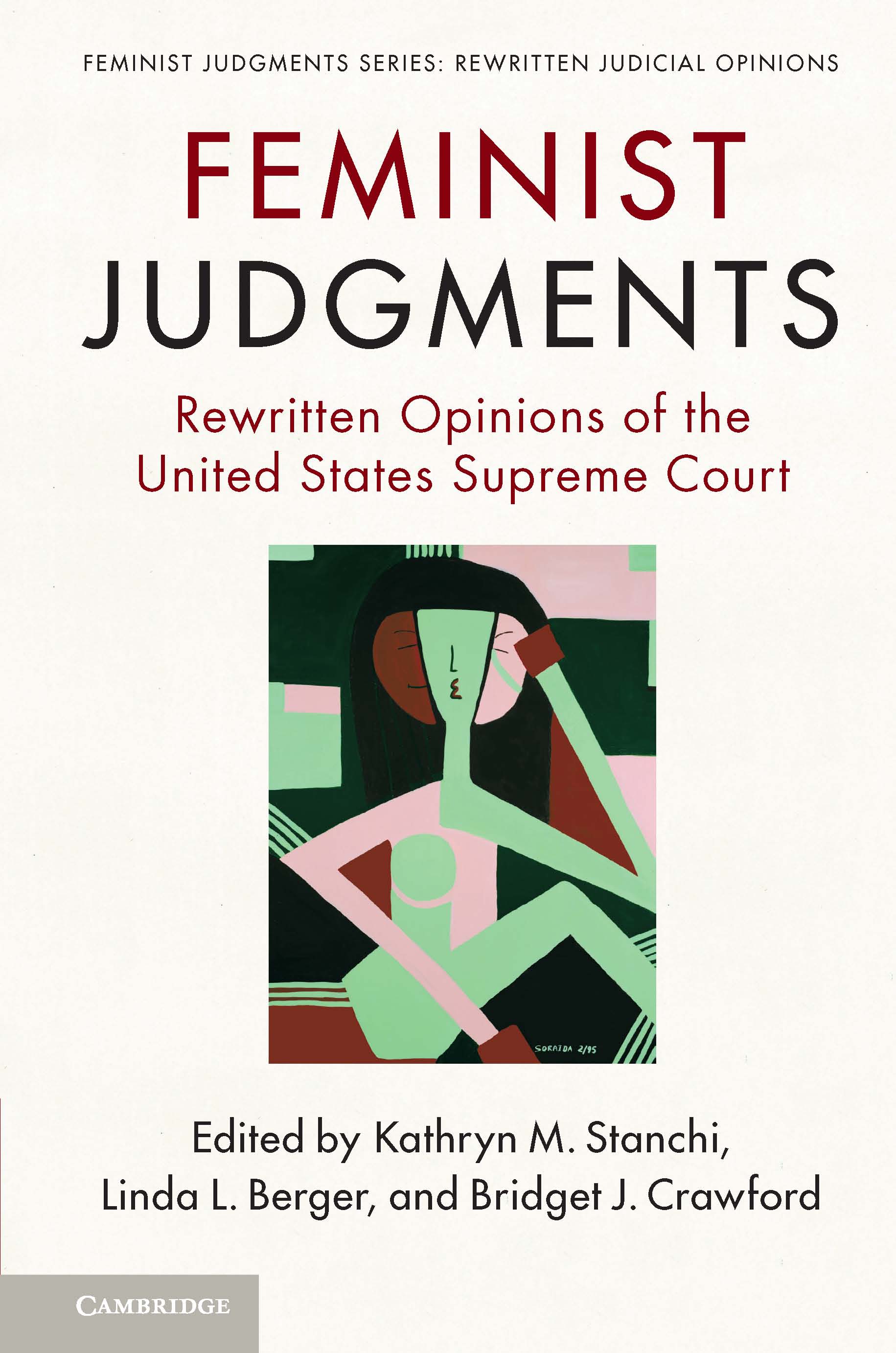 What would United States Supreme Court opinions look like if key decisions on gender issues were written with a feminist perspective? Feminist Judgments brings together a group of scholars and lawyers to rewrite, using feminist reasoning, the most significant U.S. Supreme Court cases on gender from the 1800s to the present day. The twenty-five opinions in this volume demonstrate that judges with feminist viewpoints could have changed the course of the law. The rewritten decisions reveal that previously accepted judicial outcomes were not necessary or inevitable and demonstrate that feminist reasoning increases the judicial capacity for justice. Feminist Judgments opens a path for a long overdue discussion of the real impact of judicial diversity on the law as well as the influence of perspective on judging.
A copy of the book's (substantive) Introductory chapter and full Table of Contents is available on SSRN (here).  A series of Feminist Judgments books is also in the works.  We have plans for follow-on volumes that focus on Tax, Reproductive Justice, Employment  Law, Family Law and Torts, to name just a few projects that currently in development.  You can follow the Feminist Judgments project on Twitter @usfemjudgments
Here is a list of the cases and contributors to Feminist Judgments: Rewritten Opinions of the United States Supreme Court:
Chapter 1
Introduction to the U.S. Feminist Judgments Project
Kathryn M. Stanchi, Linda L. Berger, and Bridget J. Crawford
Chapter 2
Talking Back: From Feminist History and Theory to Feminist Legal Methods and Judgments
Berta Esperanza Hernández-Truyol
Chapter 3. Bradwell v. Illinois, 83 U.S. 130 (1873)
Commentary: Kimberly Holst
Judgment: Phyllis Goldfarb
Chapter 4. Muller v. Oregon, 208 U.S. 412 (1908)
Commentary: Andrea Doneff
Judgment: Pamela Laufer-Ukeles
Chapter 5. Griswold v. Connecticut, 381 U.S. 479 (1965)
Commentary: Cynthia Hawkins DeBose
Judgment: Laura Rosenbury
Chapter 6. Loving v. Virginia, 388 U.S. 1 (1967)
Commentary: Inga N. Laurent
Judgment: Teri McMurtry-Chubb
Chapter 7. Stanley v. Illinois, 405 U.S. 645 (1972)
Commentary: Nancy D. Polikoff
Judgment: Karen Syma Czapanskiy
Chapter 8. Roe v. Wade, 410 U.S. 113 (1973)
Commentary: Rachel Rebouché
Judgment: Kimberly M. Mutcherson
Chapter 9. Frontiero v. Richardson, 411 U.S. 677 (1973)
Commentary: Iselin M. Gambert
Judgment: Dara E. Purvis
Chapter 10. Geduldig v. Aiello, 417 U.S. 484 (1974)
Commentary: Maya Manian
Judgment: Lucinda M. Finley
Chapter 11. Dothard v. Rawlinson, 433 U.S. 321 (1977)
Commentary: Brenda V. Smith
Judgment: Maria L. Ontiveros
Chapter 12. City of Los Angeles Department Dep't of Water & Power v. Manhart, 435 U.S. 702 (1978)
Commentary: Cassandra Jones Havard
Judgment: Tracy A. Thomas
Chapter 13. Harris v. McRae, 448 U.S. 297 (1980)
Commentary: Mary Ziegler
Judgment: Leslie C. Griffin
Chapter 14. Michael M. v. Superior Court, 450 U.S. 464 (1981)
Commentary: Margo Kaplan
Judgment: Cynthia Godsoe
Chapter 15. Rostker v. Goldberg, 453 U.S. 57 (1981)
Commentary: Jamie R. Abrams
Judgment: David S. Cohen
Chapter 16. Meritor Savings Bank v. Vinson, 477 U.S. 57 (1986)
Commentary: Kristen Konrad Tiscione
Judgment: Angela Onwuachi-Willig
Chapter 17. Johnson v. Transportation Agency, 480 U.S. 616 (1987)
Commentary: Deborah Gordon
Judgment: Deborah L. Rhode
Chapter 18. Price Waterhouse v. Hopkins, 490 U.S. 228 (1989)
Commentary: Dale Margolin Cecka
Judgment: Martha Chamallas
Chapter 19. Planned Parenthood of Southeastern Pennsylvania v. Casey, 505 U.S. 833 (1992)
Commentary: Macarena Sáez
Judgment: Lisa R. Pruitt
Chapter 20. United States v. Virginia, 518 U.S. 515 (1996)
Commentary: Christine M. Venter
Judgment: Valorie K. Vojdik
Chapter 21. Oncale v. Sundowner Offshore Services, Inc., 523 U.S. 75 (1998)
Commentary: Margaret E. Johnson
Judgment: Ann C. McGinley
Chapter 22. Gebser v. Lago Vista Independent School District, 524 U.S. 274 (1998)
Commentary: Michelle S. Simon
Judgment: Ann Bartow
Chapter 23. United States v. Morrison, 529 U.S. 598 (2000)
Commentary: Shaakirrah R. Sanders
Judgment: Aníbal Rosario Lebrón
Chapter 24. Nguyen v. INS, 533 U.S. 53 (2001)
Commentary: Sandra S. Park
Judgment: Ilene Durst
Chapter 25. Lawrence v. Texas, 539 U.S. 558 (2003)
Commentary: Kris McDaniel-Miccio
Judgment: Ruthann Robson
Chapter 26. Town of Castle Rock v. Gonzales, 545 U.S. 748 (2005)
Commentary: Patricia A. Broussard
Judgment: Maria Isabel Medina
Chapter 27. Obergefell v. Hodges, 135 S. Ct. 2584 (2015)
Commentary: Erez Aloni
Judgment: Carlos A. Ball