Summer 2020 included the tweetstorm publicizing the awful (and arguably unconstitutional, so say Emily Waldman and I) prohibitions on bar examinees bringing their own menstrual products to the exam.
In response, the menstrual underwear company Thinx offered to send a free pair of underwear to bar exam takers who would pay the shipping costs: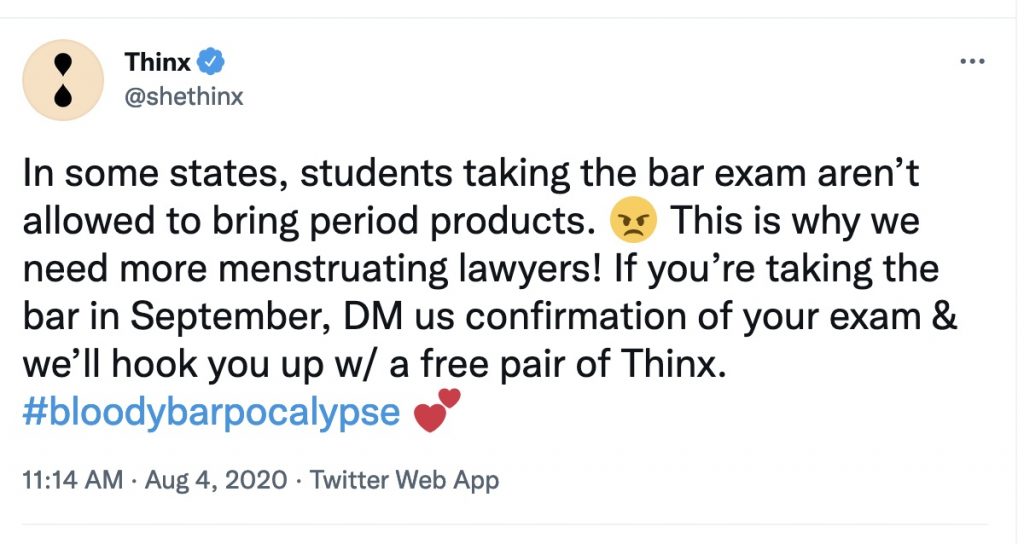 No doubt, these give-aways provided much relief to bar exam takers. At first take, the freebies also appear to be a welcome act of corporate "do-gooder-ism" — a nice way to help people in an unfair situation. I stand by that analysis.
But let's also not forget that many corporate give-aways are designed to build brand loyalty, and thus are part of the system of menstrual capitalism. Consider this tweet by a bar examinee (whose name I have redacted for privacy; the tweeter's identity isn't relevant to the point):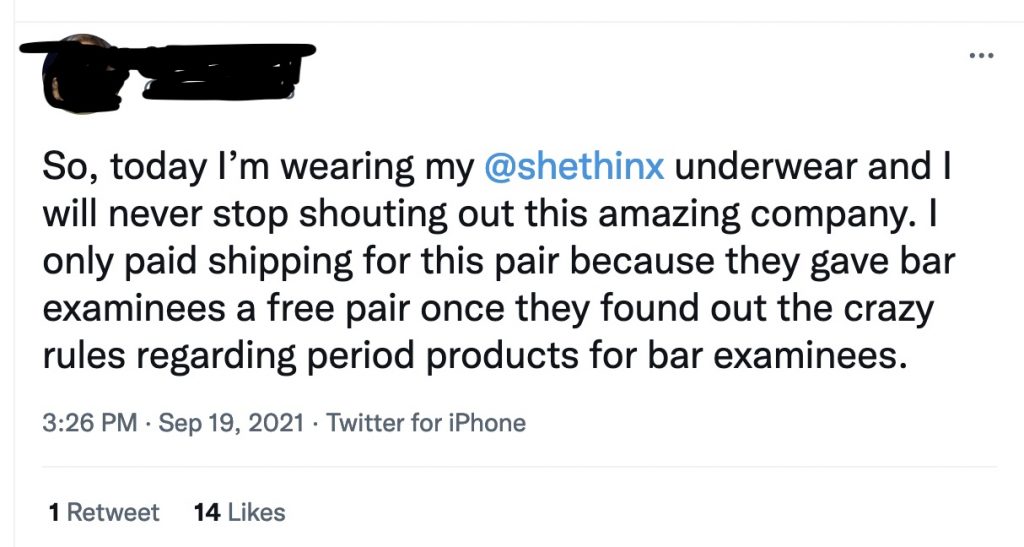 No hate. The bar examinee is understandably supportive of the company that helped her out. And in doing the helping, Thinx acquired a loyal follower who "will never stop shouting out this amazing company." 
Along with brand loyalty, Thinx's give-aways also generate free publicity for its products (smart move). The give-aways distract consumers from looking too closely at the company's past. Recall that Thinx's founder, Miki Agarwal, resigned amidst accusations that she sexually harassed employees, and then later made light of those accusations.
Companies like Thinx sell products by appealing to pro-feminist messages like body positivity and menstrual equity. Their give-aways to bar examinees and others are baked into the corporate profit model. Nothing wrong with that. Just maybe not every company that gives away products is as "feminist" as consumers might wish. 
That's why Victoria Haneman (Creighton) has suggested (here) looking at corporate structures, and B-corp status in particular, as a sorting mechanism. Her piece is worth a read.