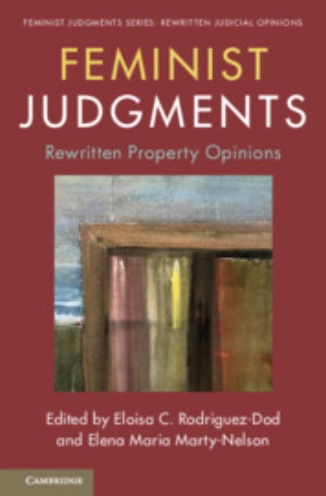 Eloisa C. Rodriguez-Dod (FIU) and Elena Maria Marty-Nelson (Nova Southeastern) have edited a wonderful collection of Feminist Judgments: Rewritten Property Opinions (Cambridge U Press 2021).
For anyone interested in teaching with feminist judgments, Linda Berger, Kathy Stanchi and I have some ideas here.
Faculty whose libraries subscribe to the Cambridge Core already have digital access to all of the Feminist Judgments books, so assigning a chapter or two to students is a (copyright-hassle-free) great option.
Among the contributors to this fabulous volume are Hannah Brenner Johnson, Lolita Buckner Inniss, Dan Burk, Andrea B. Carroll, Richard Chused, Phyliss Craig-Taylor, Olympia Duhart, Angela Fernandez,  Alexandra Flynn,  Jill Fraley, Brian Frye, Jon Garon, Erika George, Marc-Tiroc Gonzalez, Lindsey Gufstason, Carrie A. Hagan, Hannah Haksgaard, Taja-Nia Henderson, Berta Hernandez-Truyol, Meghan Hottel-Cox, Susan Etta Keller, Diane Klein, Stevie Leahy, Stacy Leeds, Donna Litman, Guadalupe Luna, Julia D. Mahoney, Elena Maria Marty-Nelson, Kali Murray, Meredith Render, Eloisa Rodgriguez-Dod, Stephanie M. Stern, Natasha N. Varyani, Pamela A. Wilkins, Danaya C. Wright, and Lua Kamal Yuille.
Check it out!