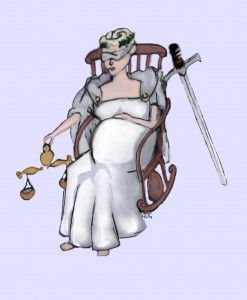 The Cardozo Journal of Law & Gender will hold a Symposium on February 25, 2009.  The topic is, "What to Expect: Legal Developments and Challenges in Reproductive Justice."  Here are the program description and agenda:
In this time of political change and economic uncertainty, the status of reproductive rights is shifting rapidly. Advocates are trying to understand these rights broadly and inclusively to anticipate potential avenues for development of social justice and its obstacles. What do new lawyers need to know about the present landscape to help achieve reproductive justice?
9:00-9:30 am Keynote Address
Lynn Paltrow (National Advocates for Pregnant Women)
9:45-11:00 am Sexuality and Education
Aimee Thorne-Thompsen (Pro-Choice Public Education Project), Micah Globerson (U.S. Agency for International Development), Bonnie Scott-Jones (Center for Reproductive Rights)
11:30-1:00 pm Assisted Reproduction
Adrienne Asch (Yeshiva University), Elizabeth Scott, Noa Ben-Asher (Columbia Law School), Bebe Anderson (Lambda Legal)
2:15-3:30 pm Young Women's Access to Reproductive Health
Linda Wharton (Richard Stockton College), Susan Frietsche (Women's Law Project), Rachel Rebouche (National Partnership for Women and Families)
4:00-5:30 pm Reproductive Human Rights
Melissa Upreti, Dana Sussman, Suzanne Stolz (Center for Reproductive Rights), Janette Amer (U.N. Division for the Advancement of Women)
5:30 pm Reception
Moderator : Leslie Gerwin (Princeton University)
Facebook event page here.  Contact  perle@yu.edu  with questions.
Looks like a great program!
-Bridget Crawford