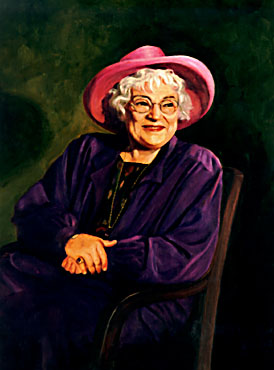 From the National Council for Research on Women, a "learning and organizing guide" to accompany Suzanne Braun Levine and Mary Thom's edited volume,  Bella Abzug: How One Tough Broad from the Bronx Fought Jim Crow and Joe McCarthy, Pissed Off Jimmy Carter, Battled for the Rights of Women and Workers, Rallied Against War and for the Planet, and Shook Up Politics Along the Way (Farrar, Straus & Giroux 2007), blogged by Ann here.
Bella Abzug was a towering figure of the second half of the 20th century.
What would Bella Abzug do today? What lessons from the history of those transformative times does she have for those of us interested in the dynamics of change? What strategies made her so effective, what family and collegial relationships gave her resilience and flexibility, and what personal qualities fired her courage? Today, in yet another era of political opportunity, we ask not just what would she do, but what will WE do – and how will we do it.
The NCRW site has some cool links to audio recordings and video recordings of Abzug.
H/T Vanessa Merton
-Bridget Crawford