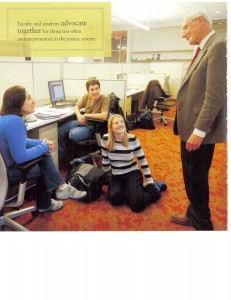 The image at left is taken from the Northeastern University School of Law publicity that landed today in my faculty mailbox.   The text in the tan box in the upper left corner reads, "Faculty and students advocate together for those too-often underrepresented in the justice system."  
That's a nice message.
A woman sitting on the floor gazing upwards adoringly at a professor is not a nice message.  
It is as if the school is saying, "At  Northeastern, our professors tower over all others.   Here, women sit on the floor and beam at their older male professors.   We like that image so much we wanted to share it with the world.   It represents a typical interaction at our school."
Who suggested this shot?   Why did the faculty member agree to it?   Why didn't the students object?   Why didn't the Marketing/Communications staff reject it?   Hey, Northeastern, you can do better.
-Bridget Crawford