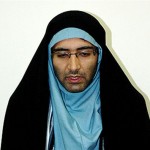 I share with permission the following commentary received today from Hossein Alizedah of the International Gay and Lesbian Human Rights Commission (
IGLHRC
):
Earlier this week, the Iranian authorities arrested Majid Tavakoli, a  student leader, who spoke at an anti-government rally in Tehran  University, marking Student Day in Iran. To humiliate him, the authorities published a picture of him wearing a woman's headscarf, an  old practice by the government to prove to the public that the    opposition leaders are "less than a man", lacking courage and bravery.   This time around though, the anti-government movement quickly responded by posting pictures of hundreds of men, wearing a headscarf.
[Watch activists' video "we are all MAJIDS"]
It is ironic how the headscarf, which was traditionally seen as a symbol of  women's oppression (they are forced to wear it in public in Iran), is  now being used by men to show membership in a liberating movement.   It is worth noting that it is a violation of law to cross-dress in Iran.
A  popular website in Iran has a webpage headed  "
Solidarity
" inviting people to    "
Be a man — Send your "woman" photo in defense of Majid Tavakkoli.
"  
Comments posted on the site by readers are  not only showing solidarity for Majid, but also speaking out against the forced wearing of the hejab by women.
– Stephanie Farrior
Vermont Law School