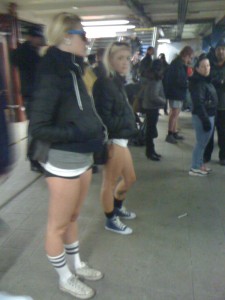 Today was the "No Pants! Subway Ride" in New York and other cities.  It's now an annual tradition — "organized" by Improv Everywhere, a group devoted to creating "scenes of chaos and joy in public places."  The group's history of the "No Pants!" ride is here.
This afternoon, I encountered several pants-less riders at the Jay Street subway station in Brooklyn.  I asked permission of two of the female participants and then snapped their photo (at left).
I must admit that the riders' pant-less state was not what first attracted my attention.  I was focused on the socks worn by the woman at the far left, mentally noting the similarity of her look with the look of the Brooklyn Cyclones cheerleaders (blogged here).  Then I noticed that her shorts were significantly shorter than the cheerleaders' shorts.  Oh, wait….She didn't have on any pants at all!
When the A train arrived, the passengers crowded on but the pants-less remained on the platform, likely waiting for the next train.  Once inside the train car, I overheard one man ask the other, "What's that about?"  "I don't know, but I like it," answered the second man.
I'd be interested in hearing about the experiences of the pants-less riders.  I'm guessing that  HappyFeminist said it well in this tweet:
Re: No pants subway ride: Ladies, if you want to go, go. Creepo's [sic] will bug you on the subway anyway, pants or sans pants.
That's why there are sites like HollabackNYC , where women can post cell phone photos of men who harass them on the streets and subways.
-Bridget Crawford