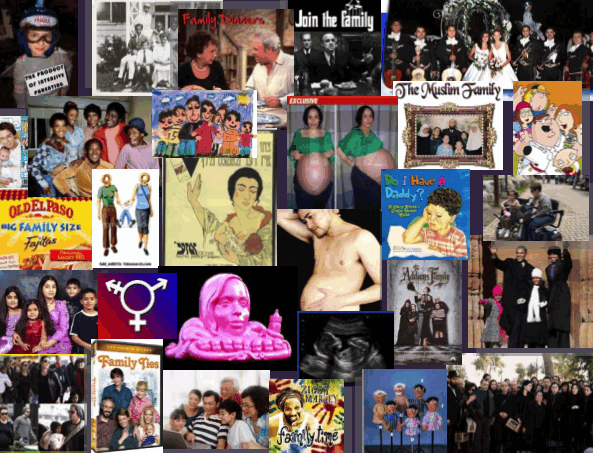 On March 25 and 26, 2010, the CUNY Graduate Center will host the conference, "All in the Family?  An Interdisciplinary  Conference on  Kinship and Community."  The program is co-sponsored by the Center for the Humanities; the Andrew W. Mellon  Foundation; philoSOPHIA: A Feminist Society; and Vanderbilt University.  The image above is from the publicity for the conference.
Feminist Law Prof Ruthann Robson (CUNY) is a featured presenter in the conference's closing session.  She will preset her piece  UnSettled (forthcoming in Queer Empire, an anthology from Routledge).  UnSettled is a reading and assemblage/slide show  that   explores the links and dissonances amongst five colonial/post-colonial societies (Australia, Canada, New Zealand, South Africa, and the  US, specifically Appalachia and California) with regard to their  indigenous peoples and their colonizers, and the struggles with  family, sexuality, and law.
Other law faculty presenters include Carlos Ball (Rutgers Newark) speaking about  "The Case of the Transgender Parent in  Contemporary American Law"  and Barbara Fedders (UNC) speaking on  "Setting a Price on Whiteness: Race  and Market Values in Domestic Infant Adoption."
Looks like a great program!
All sessions are free and open to the public.  The conference will be held at the CUNY Graduate Center at  365 Fifth Ave (btwn 34th & 35th).  The full program is available here.
-Bridget Crawford