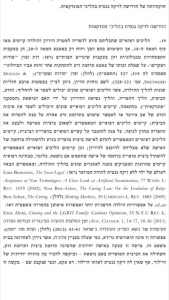 The Israel Supreme Court has cited three feminist law profs in an important decision (here — in Hebrew) regarding the constitutional right to enter into surrogacy agreements under Israeli law.  The scholars cited (in English) are:
Gaia Bernstein (Seton Hall), The Socio-Legal Acceptance of New Technologies: A Close Look at Artificial Insemination, 77 Wash. L. Rev. 1035 (2002);
Noa Ben-Asher (Pace), The Curing Law: On the Evolution of Baby – Making Markets, 30 Cardozo L. Rev.  1885 (2009);
Erez Aloni (UBC Allard), Cloning and the LGBTI Family: Cautious Optimism, 35 N.Y.U. Rev. L. & Soc. Change 1 (2011).
Great to see these three scholars' work recognized on the international level!