Today I attended an online

symposium celebrating Professor Michele Goodwin's fantastic new book, Policing the Womb: Invisible Women and the Criminalization of Motherhood (Cambridge University Press 2020). The

Center for Gender & Sexuality Law at Columbia Law School sponsored the program.

Professor Goodwin presented a brief overview of her book. Commentary followed from Professor Khiara Bridges (UC Berkeley), Professor Carol Sanger (Columbia) and Dahlia Lithwick (Slate). Professor Katherine Franke (Columbia) chaired the program. Here's a screenshot from the very interactive program.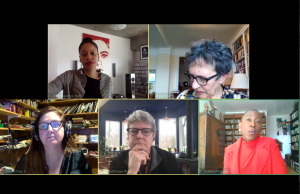 Here is a description of Professor Goodwin's book.
About Policing the Womb

Policing the Womb brings to life the chilling ways in which women have become the targets of secretive state surveillance of their pregnancies. Michele Goodwin expands the reproductive health and rights debate beyond abortion to include how legislators increasingly turn to criminalizing women for miscarriages, stillbirths, and threatening the health of their pregnancies. The horrific results include women giving birth while shackled in leg irons, in solitary confinement, and even delivering in prison toilets.

In some states, pregnancy has become a bargaining chip with prosecutors offering reduced sentences in exchange for women agreeing to be sterilized. The author shows how prosecutors may abuse laws and infringe women's rights in the process, sometimes with the complicity of medical providers who disclose private patient information to law enforcement.

Often the women most affected are poor and of color. This timely book brings to light how the unrestrained efforts to punish and police women's bodies have led to the United States being the deadliest country in the developed world to be pregnant.
There is nothing great about the current public health crisis. But I would have had trouble attending this program in person–even though I live in New York City–because of my teaching schedule. Thank you to the Columbia Center for Gender & Sexuality Law for sponsoring this program and for reaching such a large audience.