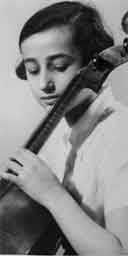 Gabrielle Knapp's article, Musizieren als Ãœberlebenshilfe. Das Frauenorchester in Auschwitz ("Music as a Means of Survival: The Women's Orchestra in Auschwitz"), originally published in  Feministische Studien, Heft 1, 1996, S. 26-35, is available in English translation here.
This short article may interest legal history scholars and others.  The orchestra's history is a  fascinating one — it inspired a  21st century opera, too.
Pictured at left is Anita Lasker Wallfisch, the orchestra's cellist.
-Bridget Crawford