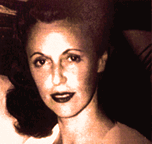 Later this month, the documentary film "The Jazz Baroness" will air on cable TV.  The film was made by the English artist (and member of the Rothschild banking family) Hannah Rothschild.  The "Jazz Baroness" explores the life of Kathleen Annie Pannonica Rothschild de Koenigswarter, the filmmaker's great-aunt and patron of American jazz.
A short write-up (here) in this week's edition of the (New York) Jewish Week newspaper provides some interesting details about this interesting woman.  Apparently, the Baroness — known as "Nica" — left her husband (the French ambassador to Mexico) and five children to pursue a more bohemian lifestyle in New York.  The Baroness ended up living with jazz great Thelonious Monk.  She supported and befriended many others including Charlie parker, Dizzy Gillespie, Art Blakey and Miles Davis.
Ever wonder where Monk got the titles for songs like "Pannonica" and "Nica's Dream"?
The basic story of Nica is one of a woman trapped in an unhappy marriage to a French diplomat, the ambassador to Mexico."My husband liked military drum music; he hated jazz,"Nica is quoted as saying in the film. One day, she heard a recording of Monk's"Round Midnight,"which appeared to be a transformative experience.
Nica, who was often referred to as"the bebop baroness,"left her family in Mexico, moved to New York, and, in 1954, met Monk in Paris. They were virtually inseparable from then until his death in 1982. Rothschild immersed herself in the New York jazz world and became a patron to many musicians.
She'd pay rent for those who fell behind, buy them groceries if needed and get their instruments out of hock. * * * [I]t was pianist/composer/jazz great Monk who captivated her."He was a good-looking cat; she was a hottie,"Hanna Rothschild says. Still, she believes it was a platonic relationship.
"Do I think she loved him? Yes, I do. Do I think she was in love with him? I do. Do I think she had an affair? I do not. As a filmmaker, it would have made the story much juicier for me. If they had an affair, I never found one shred of evidence of it.
"I think he loved [his wife] Nellie. I think sexually and physically he and Nellie were very close together."* * *Rothschild was so committed she was willing to accept a prison term for him, taking responsibility for $10 worth of marijuana found in a car, according to the film. She ultimately got off, but spent a year with the threat of a three-year sentence hanging over her head.
As for what ultimately motivated her great-aunt to leave the family fold after hearing a single record (albeit a beautiful and hip one) and pursue a life immersed in the jazz world, Hannah Rothschild is very willing to admit she stumped.
The story of Dizzy Gillespie's death in the Baroness's apartment is one of part of her life history that the film claims to clarify.  Even if it doesn't, the documentary sounds like a film worth catching.
For vintage video of Monk playing "'Round Midnight," the song that Nica de Koenigswarter said changed her life, look below the fold.
-Bridget Crawford