The retrospective "Faith Ringgold: American People" leaves the New Museum of Contemporary Art on June 5, 2022. The exhibit reveals how multi-media artist, activist, feminist, academic and writer Ringgold has made an indelible mark on the Black feminist movement within the art world and beyond for over half a century.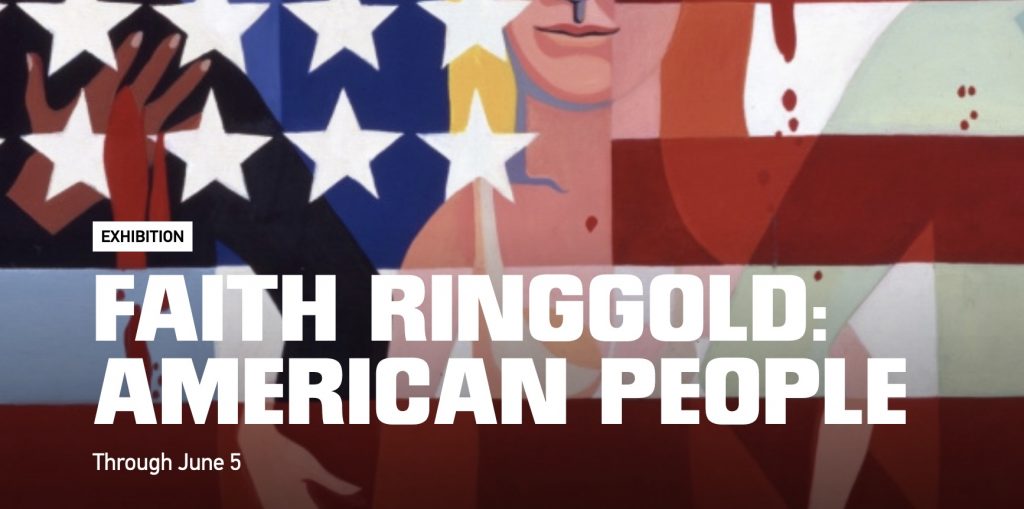 Her work particularly indicts the dehumanization of Black women in America, instead uplifting Black agency, Black beauty, Black motherhood, and Black re-imaginings of the Western art canon. Through her adamant art and activist practice, she began to topple the hierarchies of exclusionary art movements, particularly through her trademark quilting acting as a rich form of resistance to "conventional" craft and existing as a symbol of inherited inter-generational tradition, and therefore intergenerational storytelling and protest.
Read below for more about her works (especially the feminist lens discussed within the analysis of ​​United States of Attica, 1972, Slave Rape #3: Fight to Save Your Life, 1972, Woman on a Bridge #1 of 5: Tar Beach, 1988 and Dancing at the Louvre: The French Collection Part I, #1, 1991) or more on her legacy of protest within the New York art world during her time organizing in the collective she founded in 1969, the Women Artists in Revolution (WAR), as seen in a recently published primer of WAR's manifestos and correspondence in a 1973 text named, A Documentary HerStory of Women Artists in Revolution:
Earlier this year, Alex Greenberger reviewed the show for ARTNews (here). Here are some excerpts from his piece, 6 Works to Know by Faith Ringgold: How the Artist Fights Racism and Inspires Hope:
On United States of Attica, 1972:

From almost the very start of her career, Ringgold saw no separation between her art and her politics. Starting in the late 1960s, she joined and formed various activist groups in an attempt to raise the visibility of Black artists—and often in particular Black women artists—within an art world dominated by white men. Ringgold, whom feminist art historian Lucy R. Lippard calls "determinedly marginal and proud of it" in the New Museum catalogue, started the group Women Students and Artists for Black Art Liberation in 1970 with Wallace; among its early activities was a protest against the 1970 Venice Biennale, which the group demanded should be "not only white male 'superstars' but '50% women' and '50% people of color,'" as Wallace once recalled. Ringgold also attended demonstrations at the Whitney Museum by the Black Emergency Cultural Coalition and joined Where We At, a famed collective of Black women artists that staged what Ringgold considers to be the first New York show composed entirely of Black women.

Ringgold's activist sensibility also infiltrated her art in the form of posters such as this one, a lithograph paying homage to the inmates who died during a prison uprising at the Attica Correctional Facility in New York the year before the print's making. The prisoners revolted in protest of their poor living conditions, and armed officers killed more than 40 inmates during the effort to quell them. Ringgold inscribes this event within a larger history of violence in the U.S. that includes conflicts (the Revolutionary War, World War I), racist killings (the assassination of Martin Luther King, anti-Japanese actions during World War II), and colonialist carnage (the Long Walk of the Navajo, the Trail of Tears). In denoting this bloodshed all over the map, Ringgold asserts that violence is just as integral to American identity as the landscape itself. She hints that this history is hardly complete by way of a note at the bottom that encourages viewers to add mention of events not already marked.

On Slave Rape #3: Fight to Save Your Life, 1972:

As she told the New York Times in 2019, the "Slave Rape" series was "heavily inflected with my feminist perspective in both content and aesthetics," so it can be connected to some of her political activities. But it also can be tied to an ongoing interest in art history and its limits that has persisted in Ringgold's work…Indeed, the emphasis of motherhood is literally threaded into this painting—Ringgold's own mother, Willi Posey Jones, who had educated the artist early on about quilt-making, helped her sew the work.
Read the complete Art News article here.
-P.S.